Hillbilly Haven Log Cabin Rentals
235 Haven Lane
Roanoke, WV 26447
304-269-3459 or 866-652-3379

Following are instructions to guests that are posted in all the cabins. These are standard policies used by most vacation rental companies.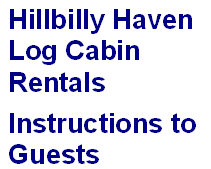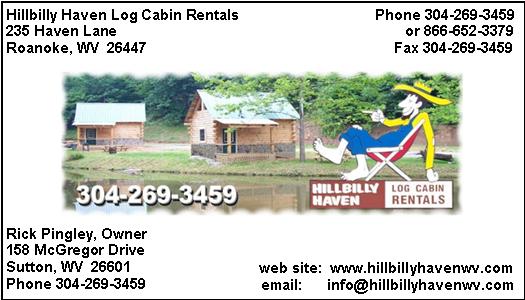 Thank you for staying at Hillbilly Haven Log Cabin Rentals!!!!! Welcome to a wonderful vacation experience. The staff at Hillbilly Haven Log Cabin Rentals welcomes you to our beautiful area, and we hope you have a wonderful visit. We strive to offer you the highest quality customer service and very nice and clean facilities. Please let us know if we can help make your vacation even better. We hope you enjoy your stay.
Checking In
Check-in time is 4:00 p.m. However, if the unit is cleaned before 4:00 p.m., you may check in earlier if you wish. If we are really busy, your unit may not be cleaned until nearly 4:00 p.m. You will be provided with one key. If this key is lost or not returned, you will be charged $20.00 per key for replacement.
Late arrivals must make arrangements with employee at office by calling 304-269-3459 before 7:00 p.m. - no refunds for late arrivals.
If you discover a problem upon check in, please notify us immediately. This will allow us to respond to the problem as quickly as possible and will also ensure that you or your family is not held responsible. If you wait more than 24 hours to inform us of a problem, we will assume that the problem or damaged item was a result of your stay. REMEMBER – Call right away so you won't have to pay.
Occupancy Limit
We reserve the right to refuse occupancy if, in our opinion, occupancy is detrimental to the property. We do not rent to house parties or other rowdy groups – only to families, couples, and responsible adults. The occupancy limits in each unit description are firm and are closely monitored. NO overcrowding is allowed. Guests who exceed the occupancy limits will face immediate termination of the rental, with no refund of rental monies paid. Please include all members of your family in your planning and rent a unit of sufficient size, or multiple units.
Campers, tents, or motor homes may not be used in conjunction with a unit to increase capacity unless special permission is granted and extra fees are paid. Also, they shall not be hooked up to the electricity or other utilities on any unit or available on the property unless prior approval has been granted and appropriate fees are paid.
Care of Cabin
I realize that some of the following rules seem harsh, and I apologize to those good customers who the rules are not meant for. However, these are standard rules for vacation rental properties. As you read the rules, please think of the consequences if the rule did not exist. Hillbilly Haven Log Cabin Rentals would constantly have to incur damage and abuse, which would result in constantly increasing rental costs. These rising costs would have to be levied against everybody, even those who did not abuse the cabins.
This cabin is the personal property of Rick Pingley, owner of Hillbilly Haven Log Cabin Rentals, and I want to share the cabin and this beautiful area with you. Please enjoy the cabin, but treat it as you would your own home. I have tried to fix it up nice for you and my other guests, so please take care of it. You are responsible for any damage done by you or your guests. The unit will be checked carefully on your departure, and any damage or shortage of items will be charged to your credit card.
Please remove muddy, wet boots before walking on the carpet, and store wet items on the porch. If you cause the need for a carpet cleaning, your credit card will be charged for the cost, plus labor.
Responsibility for Unit
The person whose name is on the rental contract is held responsible for all occupants during contract dates and for all damage to the unit or property, including damage by pets and smoking.
Parties
We want everybody to have fun and enjoy your stay. However, no rowdy house parties are permitted! Please be considerate of your neighbors, and control noise after 10:00 p.m. Should a house party be discovered or should complaints be received about excessive noise or rowdyism, occupancy will be terminated immediately, with no refund of rents paid. The person whose name is on the rental contract will be held responsible for all damages.
Parking
Please park all cars, boat trailers, etc., on graveled areas. You may be held responsible for repair costs if you tear up the grass, damage trees, damage plumbing fixtures, etc.
Telephone
Telephones are not available in the units at the current time. Most people have cellular phones, and service is good in the units.
Smoking
Smoking is not permitted in the units. If evidence of smoking is discovered, such as burned carpet or furniture, or smoke odor in the unit, you will be charged for repairs and/or fumigation to remove the odor. Please smoke outside.
Pets
Pets are permitted ONLY in Cabin 1. If pets are discovered in any other units, you will be asked to permanently remove the pet, and a $60.00 charge will be levied to clean and fumigate/exterminate the unit. If the same pet or another pet is discovered, you will be evicted, and NO refund will be given. Outside pets are welcome. However, you are responsible for cleaning up after your pet. If animal feces is found on the grounds after your stay, you will be charged a $50.00 cleanup fee.
Housekeeping
Check to be sure your unit is cleaned to your satisfaction. If it is not in satisfactory condition, please call 304-269-3459 or visit Midway Mart. Let us know on check-in day -- please do not wait.
Maintenance
Check to be sure everything is working properly, including smoke detectors and carbon monoxide detectors. We are available to help you with any problems you may encounter. Please remember emergency situations take priority. Please call 304-269-3459 to report maintenance problems. If there is an EMERGENCY after hours, please call xxx-xxx-xxxx. Let me emphasize – this number is for EMERGENCIES ONLY!!!!!
Every effort is made to keep all equipment in good working order. However, some appliances, such as tv's, vcr's, dvd players, stereos, air conditioners, gas logs, and other household items could break down during your vacation. Hillbilly Haven Log Cabin Rentals will make every effort to fix them in a timely manner. However, no refunds or rate adjustments will be made for mechanical failures. Some solutions are listed below to help you solve common problems. However, if none of these solutions work, please call the office at 304-269-3459, and we will send help as soon as possible.
Cabins are exterminated regularly. However, due to the rural, remote location of the cabins, there may be an occasion when a cabin has bees, wasps, ants, a field mouse, etc. If you have a problem, please call the office. It may not be possible to correct the problem immediately. If another unit is available, you may move if you wish, but no refunds will be given.
Inclement Weather and Road Maintenance
Access to some of the cabins is steep. If it snows, the road to Cabin 6 (Just for Two), Cabin 7 (Almost Heaven), and Cabin 8 may become very hazardous. The roads will be plowed during the day if necessary and in the morning after an overnight snow. It is recommended that you stay at the unit if it is slick. If it is slick on your checkout day, it is understood you may check out late while you wait for the roads to be plowed. If the unit is re-rented for that night, you will have to leave early enough for the cleaners to prepare the unit for the next guests.
Well Water
Water for Hillbilly Haven Log Cabin Rentals is provided by wells. PLEASE conserve water. During dry times, the use of washers/dryers, hot tubs, and whirlpool tubs may be unavailable to conserve water. If there is a water outage, every effort will be made to supplement the water supply by hauling water to storage tanks onsite. However, no refunds will be given because of a water failure during your stay.
The water is treated, is periodically tested, and is safe to drink. However, please realize that well water is different from commercial water, and some of the water in the system may have a slight smell of sulfur or slight discoloration.
Air Conditioning, Heat, and Water Heater
When cabins are empty, the air conditioning and water heaters are kept turned off to conserve energy. Also, during cold times, the heat is kept very low to conserve energy. Once you arrive, it will take awhile to get the unit to the desired temperature. Please do not run the air conditioning and/or heat with doors and windows open. A $50.00 service charge will be levied if a unit is found with doors or windows open and/or air conditioning or heat running. Wasted energy causes higher rental prices.
If the gas logs are not heating, check to see if you can see a blue pilot light flame. If it is not there, you must light it. It works similar to a gas grill. There is an arrow on the right side of the control knob. Turn the knob until the word pilot is next to the arrow. You may have to push the knob in slightly. Do not force the knob …. forcing it could damage the unit. Once the word pilot is next to the arrow, push the knob in and push the striker button. This should light the pilot. Hold the knob in for about a minute. When you release it, you should see the blue flame. If it does not stay lit, repeat the procedure. Once it is lit, turn the knob to the desired temperature. If this doesn't work, please call 304-269-3459 to report a problem with your fireplace.
If you have no hot water, please check the water heater breaker. The breaker box is located either in the bathroom closet or bedroom closet. Once the breaker is turned on, it will take 1-2 hours for the water to heat up. Please be patient. If this doesn't work, please call 304-269-3459 to report a problem with your water heater.
Refrigerators
When you arrive and are placing warm food into an empty refrigerator, it may take up to 24 hours for the refrigerator to obtain normal temperatures. It is important that the freezer be set at the warmest setting on your first day. Your food will remain frozen even at the lowest temperature. Turn the dial to the mid-setting on your freezer control on the second day of your visit. Items you put in your refrigerator affect the temperature in both the refrigerator and freezer because coils are in the freezer only. Anything you want to cool down quickly needs to be put in your ice chest. Hillbilly Haven Log Cabin Rentals is not responsible for spoiled food, so please keep food in your ice chest if necessary until the refrigerator cools to the desired temperature.
Television/VCR/DVD Player
If your TV is not working, please check to see that everything is plugged in. Be sure that the VCR or DVD Player is turned off if you are trying to watch TV. Make sure the satellite receiver is turned on when you are trying to watch TV, and the TV is turned to Channel 3 or 4. Satellite operating instructions are included later in this book.
Washer and Dryer
Please be aware of the size of the washer and dryer in your unit, if provided. Do not overload it. Please be sure to clean the filter in the dryer. If the dryer is not working (no power), please check the breaker.
Stopped up Sinks and Toilets
Please do not let children put toys or other objects in sinks or toilets – this could clog them up. Also, PLEASE do not flush feminine hygiene items down the toilet. This will stop the toilet up, and you could be held responsible for a $50.00 service call. Most units are equipped with a plunger. If plunging does not work, please call the office.
Cleaning Items
If you need cleaning items, trash bags, extra linens, toilet paper, etc., during your visit, please let the office know.
Furniture
Please do not rearrange furniture in your unit. Rearranging furniture may scratch the wood floors or tear the carpet, and you could be charged for damages to the floors. If the cleaners discover that furniture has been moved, you will be charged $50.00 to rearrange the furniture. If you are renting more than one unit, or if you have friends in another unit, please do not shuffle furniture, appliances, dishes, utensils, linens, etc., from one unit to the other. Again, a $50.00 service charge will be levied if this rule is broken.
Hot Tubs
If your unit has a hot tub, use is at your own risk. Chemicals are kept adjusted to maintain safe water. Please realize, as stated above, that we operate with well water, and the water in the tub may be cloudy after it is refilled. If you or your guests, children, etc., contaminate the hot tub with mud or other items, you will be charged $75.00 to drain and clean the tub. Also, if any damage is done to the tub by overcrowding or any other reason, you will be charged for the damage or replacement of the hot tub if necessary.
Advance Reservations
Don't forget to make your reservations for next year or for your next visit. The only way to guarantee your unit is to make your reservation now. Reservations are accepted on a first come-first serve basis. Reservations for the same period next year may be made when you check in for your current reservation.
When You Leave
Checkout time is 11:00 a.m. — NO EXCEPTIONS!!!!! You will be charged $20.00 per hour for each hour or fraction of an hour that you stay past 11:00 a.m.

Remove your personal effects, but PLEASE check to make sure you have not inadvertently packed something that belongs in the cabin, such as towels or other items. This is not a major commercial venture, and it is extremely expensive to continually replace such items. Prices continually have to be increased to replace items that are missing! Inventory will be checked carefully when you leave, and your credit card will be charged for missing or damaged items.

Turn off all lights and appliances.

In the winter, turn the gas logs down to LOW. Gas is VERY expensive. Also, turn electric heaters down to LOW if they are provided.

In the summer, turn the air conditioner off.

Turn the water heater off. Breaker is in the bedroom or bathroom closet (this does not apply to upstairs units over store).

Please strip all beds and put sheets and pillow cases on the floor beside the beds. Leave bedspreads and blankets on the top of the beds unless they are soiled. Wash and store all dishes. Place trash in the garbage can outside.

Please wash and dry all dishes. Clean up any spills, including spills on the furniture or carpet, etc.

Make sure all windows and doors are closed and locked. Lock the entrance door and leave the key at Midway Mart. Report any items that need maintenance.

Failure to follow the above check-out procedures will result in at least a $50.00 extra charge, depending on the severity of the problems.

Please complete a comment card if you wish. Also, comments in the website guest book (www.hillbillyhavenwv.com) are appreciated. I would like to hear your ideas, comments, and/or suggestions.

Thank you for your visit, and please return soon.

Rick Pingley

Owner

Following is the policy sheet that is part of each cabin rental contract. These policies are patterned after policies of several vacation rental companies, including ski resort lodging companies and companies that manage beachfront properties.
Hillbilly Haven Log Cabin Rentals
RENTAL PROCEDURES AND CONTRACT
1. A prepayment equal to half of the rent is required to make a reservation. The balance is due 30 days before arrival. If the arrival date is less than 30 days after the day the reservation is made, full payment by credit card is required. If the prepayment for the balance due is not received at least 30 days before the arrival date, the credit card will be charged for the balance due.
2. All units will be charged a WV Sales Tax of 6% and WV Hotel-Motel Tax of 6%.
3. If a reservation is cancelled more than 30days prior to arrival date, 50% of deposit is refunded. If reservation is cancelled 30 days or less before arrival date, all prepaid fees are forfeited. Reservations made less than 30 days before the scheduled arrival date cannot be cancelled for any reason. Reservation date changes may be made from the time the reservation is made to 30 days before arrival, subject to a $75.00 fee. Dates may not be changed 30 days or less before arrival for ANY reason – the reservation must be cancelled, and the fee is forfeited. Refunds, fee reductions, or reschedules will not be granted for early departure for ANY reason, including change in work schedule, sickness, injury of members of the party, weather, or any other reason. If the tenant has any doubt that he will be able to keep a reservation, it is strongly recommended that travel insurance be purchased.
4. Credit cards, personal checks, cashier's checks, or money orders are accepted for prepayment. There will be a $50.00 fee for returned checks or charge backs on your credit card.
5. A damage deposit or VALID credit card number is required. If the deposit is in the form of a check, a separate check must be included for the damage deposit. This check will not be cashed unless the unit is damaged or the tenant has caused expense for the Owner. The tenant understands he is responsible for damages caused by him or his guests (invited or uninvited) and by signing this form hereby authorizes the Owner to process the credit card number furnished and to charge the card for any inside or outside damage, missing items, pet cleanup, hot tub cleaning, stopped sewers, returned check fees or credit card charge back fees, or to pay any and all telephone and long distance charges, cable or satellite television charges, or other charges left unpaid at the termination of the tenancy. In the event the tenant does not have a credit card, the security deposit will be used to pay for the charges. Unpaid charges will be turned over to Magistrate Court. The deposit will be refunded within 10 days of the departure or the check will be voided and destroyed if the conditions are met as described above.
6. Check in time is 4:00 p.m. and check out time is 11:00 a.m. Early arrivals will be permitted if the cabin is cleaned early. If you check out later than 11:00 a.m., you will be charged $20 per hour for each hour or fraction of an hour you stay after 11:00 a.m.
7. Rates, description and availability are subject to change without notice.
8. One set of linens and blankets is furnished for each bed and one set of towels is furnished for each occupant during your stay.
9. PETS ARE NOT ALLOWED INSIDE OF THE UNIT except in Cabin 1. If pets are discovered in other units, they will have to be boarded. The tenant must pay a $10.00 pet fee per pet per night (for Cabin 1), and could be charged a $60.00 fee for pest extermination and damages. If cleanup is required, either inside or outside, a fee will be charged.
10. Units are maintained to meet the high standards of Hillbilly Haven Log Cabin Rentals. Every effort is made to keep each unit and its equipment, the roads, etc., in good condition. Should a difficulty arise during your stay, every effort will be made to have the item repaired or the situation corrected as quickly as possible. Refunds, fee reductions, reschedules, or reimbursement will not be given in case of failure of equipment, power failure, weather, or other conditions over which the Owner has no control.
11. Snow removal from walkways, steps, and decks is the tenant's responsibility.
12. Use of the ponds is free. Swimming, fishing, or any other use of the ponds, hunting, or any other activities on the property of Hillbilly Haven Log Cabin Rentals, LLC, Midway Mart, LLC, or Mountain Lake Properties, LLC, is at your own risk.
13. Use of hot tubs is free and is at your own risk. Damage done to hot tubs by contamination with lotions, grease, dirt, dirt, sand, mud, or other contaminants, or from overloading will be charged to the tenant as described in Paragraph 4 above. If a hot tub malfunctions, no repair or replacement is guaranteed and no refunds, fee reductions, or reschedules will be given if it malfunctions.
14. House parties are not allowed under any circumstances. Should a house party be found in a unit, or rowdyism or other unacceptable behavior occurs, occupancy will be terminated immediately with no refund, and you will be charged for any damage.
15. Accommodation is strictly limited to the number of occupants agreed upon when the reservation is made, including children. Violation of this policy could result in eviction without refund.
16. If television, VCR, or DVD Player is provided with the unit, no repair or replacement is guaranteed and no refunds, fee reductions, or reschedules will be given if TV, VCR, DVD Player, the satellite system, etc., malfunctions.
17. Maintenance must be performed on the property periodically, including mowing, road maintenance, well drilling or other utility maintenance, etc., and this could cause noise or other distractions/inconveniences. The tenant recognizes and understands that this maintenance is necessary, and agrees that no refunds, fee reductions, or reschedules will be given because of this.
18. If at the time the tenant is to begin occupancy of the property, Owner cannot provide the property in a fit and habitable condition or substitute a reasonably comparable property in such a condition, Owner shall refund to the tenant all payments made by the tenant. This does not include situations out of the Owner's control, such as weather-related situations. Trip insurance purchased by renters covers those types of situations.
19. The Owner has the right to enter the premises during tenancy to inspect or make repairs.
20. No assignment or subletting is permitted without written permission of the Owner.
21. In the event of a transfer of property by Owner, the contract is protected if the rental is to end within 180 days after the sale is recorded. If the Owner chooses not to honor rentals after 180 days, the tenant is entitled to a full refund. The new Owner is required to notify each tenant within I0 days of transfer as to their rental status and return of monies paid. The Seller is required to transfer all monies to the new Owner within 30 days of sale and to notify the tenant by mail of the transfer. If the property transfer is involuntary, the Owner has 60 days to refund money to tenants.
22. The Owner reserves the right to cancel this contract at any time prior to tenant taking possession of the property. In such event, all payments made by tenant to the Owner will be refunded, and Owner will not be liable for any damages of any sort incurredby tenant as a result of such cancellation by new Owner. If the tenant desires to be placed in alternative premises, the Owner will make good faith effort to relocate tenant, but if premises are more expensive, tenant agrees to pay difference.
23. Canadian resident checks must be written on a US affiliated bank and be clearly marked "US FUNDS."
24. The Owner reserves the right to refuse rental or discontinue occupancy, if in the Owner's opinion, the tenant is detrimental to the property. In such event, there will be no refund of rents or fees. The unused portion of the security deposit will be refunded.
I fully understand that this property is privately owned, and that the Owner will not be responsible for accidents or injuries of any kind to guests, or for loss of money, jewelry, or valuables of any kind. I fully understand that any damages done to the property by me or my guests (invited or uninvited) is my responsibility. I agree to leave the unit clean and in good order. This is a vacation rental. Law defines the rights and obligations of the parties to this contract. Advance payment of money by credit card to reserve a unit, your signature on the rental contract, or taking possession of the property is evidence of your acceptance of the contract (including the verbiage on the reverse) and your intent to use this property for a vacation rental.
Copyright© 2017 All Rights Reserved